IPL Photofacial
As a result of sun exposure, lifestyle choices and natural aging process, our collagen depletes, and the skin becomes thinner. As a result, sunspots, age spots, spider veins, rosacea, and other types of skin discoloration begin to appear.
IPL, also known as Intense Pulsed Light therapy or the photo facial, uses cutting edge technology to produce younger-looking skin that's firmer and more even in tone and texture.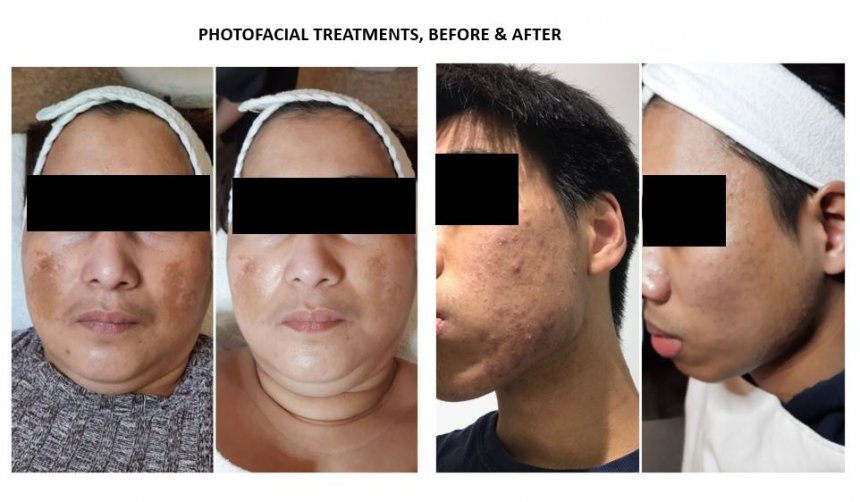 What is IPL Photofacial?
The IPL Photofacial treatment rejuvenates the skin by using intense pulsed light to target areas of concern. IPL is a non-invasive treatment that can reverse aging and improve the color, texture, and over-all appearance of the skin.
The use of intense pulsed light with various wavelengths can stimulate collagen production in the skin and improve blood vessels activity. When appropriately applied, the results of IPL Photofacials are long-lasting and enhance the skin's appearance treating wrinkles, fine lines, brown spots, redness, sun damage, and rough texture.
IPL Photofacials have minimal discomfort; some patients experience slight tingling or warmth during their sessions. There is minimal downtime, allowing patients to continue with their normal activities after each treatment. The most common side effect associated with IPL is redness in the treated area, which usually subsides within 48 hours of the procedure.
IPL Photofacial benefits
Quick skin rejuvenation with little to no downtime
Even out skin color & tone
Improve facial contour
Kills acne bacteria
Improve appearance of redness from acne
Diminsih age spots, sun spots and other skin discoloration
Stimulate collagen production
Help combat flushing and red blotches from rosacea
Help fade broken capillaries (spider veins)
Frequently Asked Questions
Who are the candidates for IPL Photofacial?
If you are suffering from skin discoloration like sun spots, age spots, freckles, post acne marks, stubborn acne, wrinkles, broken capillaries/spider veins, rosacea or just wants to tighten and lift skin.
What will my skin look like immediately after a photofacial treatment?
Unlike laser, which can cause skin to peel and possibly leave scars, IPL photofacial treatments are very gentle on the skin. The pigment in the brown spot or age spot will darken very slightly and the treated blood vessel will also darken a bit. However, the skin will remain intact. The treated areas may also be slightly pink for a few hours.
Does a photofacial treatment hurt?
There's minimal discomfort during photofacial treatment but numbing cream is not required. When IPL or photofacial flash hits the skin, you will feel a little snap or sting, but this is easily tolerated by clients, The contact cooling window of the handpiece make it a safe and less painful experience.
How many photofacial treatments will I need?
Usually, a minimum of 4 photofacial treatments spaced at 3 to 4 weeks apart for the desired results. The method involves breaking down the sticky pigment underneath using the lights wavelength, thus multiple and consistent sessions are recommended for better results.
How soon will I see the results from photofacial treatment?
Generally, you will see the result from your photofacial in 4 to 5 weeks post treatment. Depending on the severity, the brown spot will be lighter or gone and the red spot or blood vessel may go away even after your first treatment.
TALK TO US!
Talk to Us About Photorejuvenation
Getting an IPL Photofacial can help regain your younger, looking skin without significant discomfort, downtime, or expense. If you are interested and you think you might be a good candidate for this procedure, please arrange for free consultation,